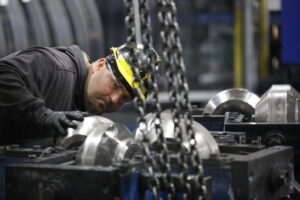 A relatively recent HSS specification, ASTM A1085 was introduced to cover structural applications requiring a minimum yield strength of 50 ksi. Bull Moose meets A1085 with products in round, square, and rectangular configurations.
The ASTM A1085 spec also provides enhanced performance for seismic and other related fatigue-suppressing applications. Due to tighter tolerances, ASTM A1085 allows for FULL Structural Design Capacity of the profile, allowing the structural engineer to reduce welding requirements, lowering fabrication cost and increasing fabrication productivity.
When A500 Isn't Up to the Task
ASTM A1085 stands as a significantly more stringent standard than A500.
One key differentiator is that this spec (unlike A500) mandates Charpy V-notch testing achieving a minimum of 25 foot-pounds at 40 degrees (F), ensuring that the A1085 material is well suited for projects demanding a robust material.
The strength of A1085 is also reflected in the spec's 50ksi minimum yield stress rating, which is particularly relevant for seismic building designs. This rating applies to all HSS shaped, as opposed to A500, which only provides 42 ksi for rounds, and 46 for squares and rectangles.
Overall, the A1085 material is also produced to tighter tolerances than A500. For example, allowable wall tolerance is half that of A500–enabling capacity designs to be based on the full nominal wall thickness, rather than on a reduced calculation.
A500 is perfect for a broad range of applications…but when the demands are higher, it becomes a job for Bull Moose A1085 material.
Common Applications Include: