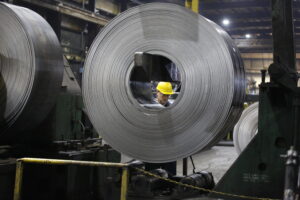 Introduced in 2018, the ASTM A1112/A1112M-18 standards cover new high-strength HSS alloys, including Grades 70, 80, 90, 100 & 110 HSS.
This is the spec that pertains to the high-strength, low-weight Stratusteel HSS line from Bull Moose.
A1112 provides new options for welded, riveted, or bolted construction of bridges, buildings, and similar structural applications. And Stratusteel, with its 110 ksi yield strengths, provides new options for other innovative, weight-saving uses such as:
Trailers
Construction cranes
Industrial racking
Launch pad scaffolding
Communication towers
Military vehicles
Hook & ladder trucks
CLICK HERE to read an interview with Mark Abernathy about A1112.