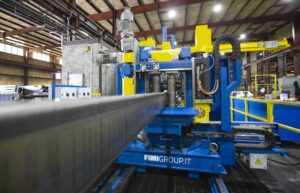 A500 is familiar across many industries as a primary standard for structural steel components. And Bull Moose is familiar in many industries as a consistently reliable provider of products that fully conform to A500 standards.
Except for certain smaller sizes, our HSS is produced using a Direct-Form method whereby the square or rectangle is directly formed from the strip of steel and then welded. This Direct-Form method allows Bull Moose Tube to produce deep rectangles rarely manufactured in the industry and hard metrics. In addition, Bull Moose Tube can roll 80 ksi steel and, for certain sizes and gauges, 100 ksi and 110 ksi steel.
In addition to A500 specs, we can also meet the more stringent CSA G40.21 standards.
Among the many advantages of Bull Moose products:
Tighter tolerances, sharper edges, and straighter tubes
Less residual stress on the steel
Widest variety of custom sizes and lengths, including metric sizes and cut-to-length options
Special packaging
Common Applications Include:
Industrial Structures
Commercial construction
Bridges
Heavy haul trailers
Hook & ladder trucks
Gooseneck and dump trailers
RV chassis
Automotive racking
Vehicle transport trailers
Drill masts
Land rigs
Solar bases
Trusses
Structural columns