Helping Distributors Meet Customer Needs for More Than 50 Years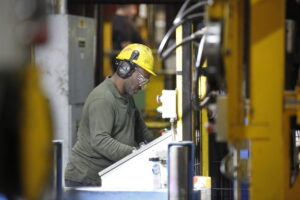 Local and regional partners have been the backbone of our product distribution for more than a half century. Long-standing relationships with distributors across the continent have shown that Bull Moose is serious about helping those independent operations effectively serve their customers.
Distributors find that we will collaborate on scheduling and inventory management, as well as on special orders and metric sizes. And in turn, we recognize the value that many of our distributors add to the end users through finishing services that they provide.
If you're a distributor seeking to carry products that rise above "commodity" status, we'd like to talk with you. We can help you satisfy customers whose needs may span a broad range of material types and specs:
View Sales/Service Area
Hover over the map to see contact info. Click a region to go to email for the region.
Michael Bernitt

708-494-3281
Marshall Brown
713-373-7310
Kevin Sinclair
205-413-7282
Scott Headley
520-560-1803
Bert Pals – Sales Director, Canada
289-241-4588
John Majetic
905-328-1739
Director of Sales — Distribution
Ross Erickson

314-973-1745